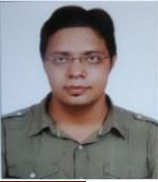 Mr. Harsh Taneja
Assistant Professor
Bharati Vidyapeeth's College of Engineering
E-MAIL ID: harshtaneja88@gmail.com
HIGHEST QUALIFICATION:M.E (Software Engineering)
 AREA OF SPECIALISATION: Software Engineering, Computer Networks
WORK EXPERIENCE:  1.3 Years Industry, 1 Teaching Experience
SUBJECTS TAUGHT: Software Project Management, Operating System, UML, Computer Networks.
PAPERS PUBLISHED:
Harsh Taneja, Ashima Singh, 2012, "ISSUES AND CHALLENGES IN INTEGRATION OF AGILE PROCESSES TO TRADITIONAL SOFTWARE PROCESS MODELS", International Journal of Research in Engineering and Applied Sciences, ISSN: 2249-3905, Volume 2, Issue 2, pp. 1103-1109, February 2012.
 ACHIEVEMENTS:
  Organized Indradhanush Workshop in NLP organized by Thapar University.
  Organized FDP on Data Mining at BVCOE, New Delhi