BVCOE NSS UNIT
The National Service Scheme (NSS) is an Indian government-sponsored public service program conducted by Ministry of Youth Affairs & Sports Govt. of India, popularly known as NSS was launched in Gandhiji's Birth Centenary Year 1969. Aimed at developing student's personality through community service, NSS is a voluntary association of young people in Colleges, Universities and at intermediate level working for a campus-community linkage. The cardinal principle of the NSS programme is that it is organized by the students themselves, and both students and teachers through their combined participation in community service, get a sense of involvement in the tasks of nation building.
BVCOE, runs NSS since 2013. We started NSS unit with Girls and Boys in 2013. In 2013, NSS has been allotted as regular vacancy under the SFS Scheme for both Girls & Boys. We have 100 seats allotted under the SFS Scheme by the Ministry of Youth Affairs and Sports, Government of India and our NSS unit is also approved as SFS NSS unit by the GGSIP. University NSS cell. In 2016 BVCOE NSS has been awarded with Delhi colleges best NSS unit award.
The basic unit of NSS normally comprises of 100 volunteers at school/ college level. BVCOE NSS unit in an institution is led by a teacher designated as 'Programme Officer (PO)' Dr Anil Kumar, which plays a pivotal role as an educator, organizer, coordinator, supervisor, administrator and public relations person for the NSS unit.
BVCOE NSS Administrative Structure
Dr Anil Kumar –    Program Officer (PO)
Manjeet Dahiya – Member
Neetu Singh – Member
Sandeep – Member
Aditi Sharma (B. Tech. 3rd Year) – Head Girl
Aryan Jain – (B.Tech. 3rd Year) – Head Boy
Benefit for Students/ National Service Scheme Volunteers
Personality Development

Incentive

Preference in Admission / Employment

National Integration camp, Adventure Programme, State level as well as National Level programme

It helps in acquiring leadership qualities and democratic attitude.

It provides diversified opportunities to students in colleges and universities to develop their personality through community service.

It developer a sense of involvement in the task of nation building.

Volunteer's interaction with the slum dwellers and villagers expose them to the realities of life and bring about a change in their social perception.

It helps in developing positive attitude, self-confidence, courage & patience.

It helps in developing his / her skill to perform certain jobs, quality of an organizer, an

Administrator and development of personality as a whole.

He/she gets opportunities to see the community closely and thus gets an experience of human nature in relation to his / her environment.

Gets the opportunity to meet the people from different walks of life.

He/she gets the opportunity to participate in various National / State level programme such as National Integration, Motivational Lamps, value oriented self-development camps, Adventure camps, workshops. Youth exhibition, cultural programmes etc.

A National service scheme contingent of 160 (boys and girls) participants selected after a rigorous test participates in the Republic day parade camp for 3 weeks at New Delhi in the month of January every year.

NSS volunteer completing 240 hours of regular community service in a period of two years is to be issued an NSS certificate by the college / +2 level Institution or the University/Directorate of education.
Participation in Digital Financial Literacy Campaign by AICTE at Vigyan Bhavan, 2017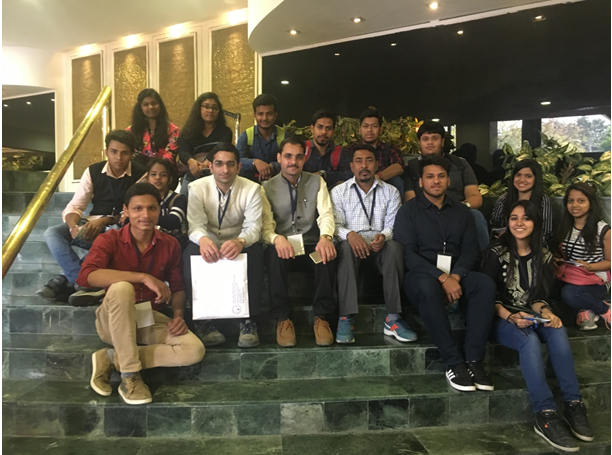 National Integration Camp and Pravasi Bharatiya Divas at Bangalore, 2017
Declamation Contest on Patriotism and Nation Building  by NYKS (Govt. of India)