Administrative  Structure
| | | |
| --- | --- | --- |
| NSS Programme Officer :- | Dr. Anil Kumar | |
| NSS Student Secretary :-  | Meenal Gupta | |
| Technical Assistant :- | Ravi | |
| Ministerial Staff :- | Prem Singh | |
| Ministerial Staff :- | Surender Singh | |
Description about the NSS Unit:-
The National Service Scheme (NSS) was established in India on September 24, 1969. The NSS is an Indian government-sponsored public service program conducted by the Department of Youth Affairs and Sports of the Government of India.
In Bharati Vidyapeeth's College of Engineering, New Delhi. BVCOE NSS Unit had started in 2013 under the guidance of NSS officer Dr. Anil Kumar (A.P. in Physics Applied Sc. Deptt.) The NSS aims is developing student's personality through community service, NSS is a voluntary association of young people in colleges, universities and at +2 levels working for a campus-community linkage. The cardinal principle of the NSS program is that it is organized by the students themselves, and both students and teachers through their combined participation in community service, get a sense of involvement in the tasks of nation building.
Objectives of NSS :
The broad objectives of NSS are to:
understand the community in which they work

understand themselves in relation to their community;

identify the needs and problems of the community and involve them in problem solving process;

develop among themselves a sense of social and civic responsibility;

utilize their knowledge in finding practical solution to individual and community problems;

develop competence required for group living and sharing of responsibilities;

gain skills in mobilizing community participation;

acquire leadership qualities and democratic attitude;

develop capacity to meet emergencies and natural disasters and

practice national integration and social harmony.
The Motto
The motto or watchword of the National Service Scheme is : 'NOT ME BUT YOU'. This reflects the essence of democratic living and upholds the need for selfless service and appreciation of the other person's point of view and also to show consideration for fellow human beings. It underlines that the welfare of an individual is ultimately dependent on the welfare of society on the whole. Therefore, it should be the aim of the NSS to demonstrate this motto in its day-to-day programme.
Classification of NSS Programme
NSS activities have been divided in two major groups. These are regular NSS activities and special camping programme –
Regular NSS Activity: Under this, students undertake various programmes in the adopted villages, college/school campuses and urban slums during weekends or after college hours.

Special Camping Programme: Under this, camps of 10 days duration are organised in adopted villages or urban slums during vacations with some specific projects by involving local communities. 50% NSS volunteers are expected to participate in these camps. Special Camping programme under NSS has been dealt with in Part III in detail.
NSS Regular Activities: As stated above, NSS volunteers undertake various activities in adopted villages and slums for community service. Duration of these services is 120 hours. The NSS units organise the regular activities as detailed below:
Orientation of NSS volunteers: To get the NSS volunteers acquainted with the basics of NSS programmes, 20 hours are allocated fo r their orientation through lectures, discussions, field visits and audio-visuals etc.

Campus Work: The NSS volunteers may be involved in the projects undertaken for the benefit of the institution and students concerned. Such projects cover development of play grounds, laying of gardens, tree plantation in the premises, awareness programmes on drug-abuse, AIDS, population education and other projects. The NSS volunteers may work on campus projects for not exceeding 30 hours in a year.
Participation in Digital Financial Literacy Campaign by AICTE at Vigyan Bhavan, 2017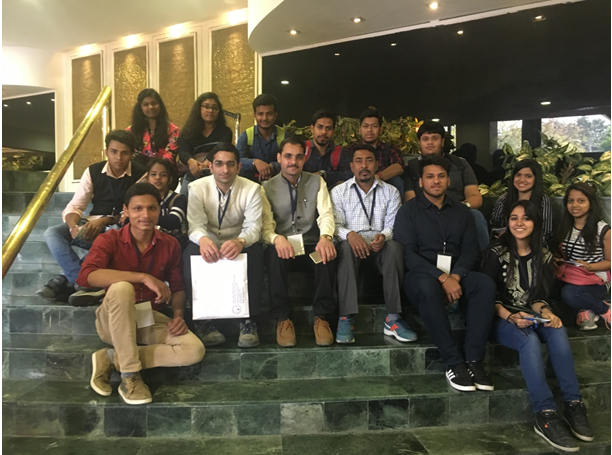 National Integration Camp and Pravasi Bharatiya Divas at Bangalore, 2017
Declamation Contest on Patriotism and Nation Building  by NYKS (Govt. of India)