The BVP ISTE student chapter of the Indian Society for Technical Education was founded in the College of Engineering at Bharati Vidyapeeth in 2011 to further technical education with a more practical focus. BVP ISTE has consistently worked to realize its vision of emphasizing practical knowledge. Through a variety of seminars, workshops, and competitions in the hardware, software, and research fields, we have made an effort to do this. More than 300 college students are registered members of the society as of 2022.
Our ideology and enthusiasm for technology is summed up in our motto – Innovation && Technology 
Since its inception in April, 2011, society has been very active in working towards its goal of promotion of technical knowledge. With the start of the new session, in 2022 we have been involved in various activities with our key domains being Artificial intelligence, machine learning, web development and graphic designing.
Faculty Co-Ordinator- Mahesh Kumar
Our Team
Chairperson: Aavaig Malhotra
Vice-Chairperson: Bhavuk Khanna
Vice-Chairperson: Piyush Khurana
General Secretary: Devansh Verma
Latest Events Conducted (2022)
Squid Games
14 Nov '22 
This is an annual fun event we conduct for the freshers, with many games like Red light-Green light, one truth and two lies, guess the correct option and many more. We bring together the whole college to enjoy the show and have a fun time all the while winning exciting prizes.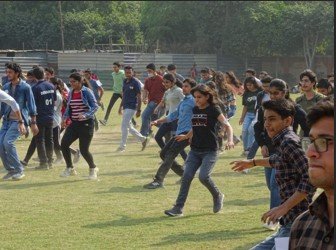 Roadmap
17 Nov '22
This is an interactive event in which all the freshers get a clear goal of what they can do to start their coding journey and make the right choices. The key is to focus and give a general direction of making the wisest choices when it comes to choosing a technology or a domain to master. This provides them with a laser focus and all the knowledge required for making a decision best for them.
From Git to Open Source (Hactober Fest)
10 Oct '22
An eye opener event for all the students who wish to contribute to opensource and make a change to learn from practical knowledge. This allows them to learn quickly and improve quickly, BVP ISTE provides a platform where our guest speaker is able to share their experience and show the students how to get started and make a change for the better.