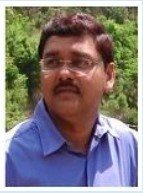 DR. ASHISH KUMAR SINGH
Asst Professor (CHEMISTRY)
Office Phone: (011) 25258637, 25278443, Extn: 215 
---
QUALIFICATION (in order by latest): Phd (Chemistry), UGC-CSIR NET, M.Sc. (Chemistry), B.Sc
Work Experience: 8 years.
AREA OF SPECIALISATION: Corrosion, Co-ordination compounds, Organometallics
Biography
Dr. Singh is an Assistant Professor in the Department of Applied Science. He has done Ph.D. from Department of Chemistry, Indian Institute of Technology, BHU, in 2010 with excellent research outputs. For his research excellence during Ph.D., he got Global Alumni Award from Global Alumni Association of IIT,
BHU in 2010. After Ph.D., he was Post-Doctoral Fellow at North-West University, South Africa. He has also been awarded DST-Young Scientist under Fast Track Scheme. His research article (Mat. Lett. 2009; 63:819-822) has been highlighted in Nature India Research Highlight-doi:10.1038/nindia.2009.113; Published online 29 April 2009) and has also been published as cover page of Journal Material Letters.
SUBJECTS TAUGHT: Applied Chemistry, Organic Chemistry, EVS
Publications
Effect of Cefazolin on the corrosion of mild steel in HCl solution, AK Singh, M A Quraishi, Corrosion Science 52 (1), 152-160 (Citation 304)
Green approach to corrosion inhibition of mild steel in hydrochloric acid and sulphuric acid solutions by the extract of Murraya koenigii leaves, MA Quraishi, A Singh, VK Singh, DK Yadav, AK Singh, Materials chemistry and Physics 122 (1), 114-122 (Citation 242)
Synthesis, structural investigations and corrosion inhibition studies on Mn(II), Co(II), Ni(II), Cu(II) and Zn(II) complexes with 2-amino-benzoic acid (phenyl-pyridin-2-yl-methylene)-hydrazide, AK Singh, VP Singh, Pooja Singh, Divya Pratap Singh, Karishma Tiwari, Monika Mishra, (Citation 129)
The effect of some bis-thiadiazole derivatives on the corrosion of mild steel in hydrochloric acid, AK Singh, MA Quraishi, Corrosion Science 52 (4), 1373-1385 (Citation 121)
Streptomycin: A commercially available drug as corrosion inhibitor for mild steel in hydrochloric acid solution, SK Shukla, AK Singh, I Ahamad, MA Quraishi, Materials Letters 63 (9), 819-822, (Citation 112)
Effect of 2, 2′ benzothiazolyl disulfide on the corrosion of mild steel in acid media, AK Singh, MA Quraishi, Corrosion Science 51 (11), 2752-2760, (Citation 109)
N-(Piperidinomethyl)-3-[(pyridylidene) amino] isatin: A new and effective acid corrosion inhibitor for mild steel, MA Quraishi, I Ahamad, AK Singh, SK Shukla, B Lal, V Singh, Materials chemistry and physics 112 (3), 1035-1039, (Citation 101)
Investigation of the effect of disulfiram on corrosion of mild steel in hydrochloric acid solution, AK Singh, MA Quraishi, Corrosion Science 53 (4), 1288-1297, (Citation 95)
Inhibitive effect of diethylcarbamazine on the corrosion of mild steel in hydrochloric acid, AK Singh, MA Quraishi, Corrosion Science 52 (4), 1529-1535, (Citation 94)
Inhibitive effect of ceftazidime on corrosion of mild steel in hydrochloric acid solution, AK Singh, SK Shukla, M Singh, MA Quraishi, Materials Chemistry and Physics 129 (1), 68-76, (Citation 72)
Inhibition of mild steel corrosion in hydrochloric acid solution by 3-(4-((Z)-indolin-3-ylideneamino) phenylimino) indolin-2-one, AK Singh, Industrial & Engineering Chemistry Research 51 (8), 3215-3223 (Citation 60)
Inhibiting effects of 5-substituted isatin-based Mannich bases on the corrosion of mild steel in hydrochloric acid solution, AK Singh, MA Quraishi, Journal of Applied Electrochemistry 40 (7), 1293-1306, (Citation 60)
Electrochemical and quantum chemical investigation of some azine and thiazine dyes as potential corrosion inhibitors for mild steel in hydrochloric acid solution, EE Ebenso, MM Kabanda, LC Murulana, AK Singh, SK Shukla, Industrial & Engineering Chemistry Research 51 (39), 12940-12958, (Citation 56)
Investigation of adsorption of isoniazid derivatives at mild steel/hydrochloric acid interface: Electrochemical and weight loss methods, AK Singh, MA Quraishi, Materials Chemistry and Physics 123 (2), 666-677, (Citation 56)
Investigation of adsorption characteristics of N, N′-[(methylimino) dimethylidyne] di-2, 4-xylidine as corrosion inhibitor at mild steel/sulphuric acid interface, AK Singh, SK Shukla, MA Quraishi, EE Ebenso, Journal of the Taiwan Institute of Chemical Engineers 43 (3), 463-472, (Citation 48)
Synthesis, structural and corrosion inhibition studies on cobalt (II), nickel (II), copper (II) and zinc (II) complexes with 2-acetylthiophene benzoylhydrazone, VP Singh, P Singh, AK Singh, Inorganica Chimica Acta 379 (1), 56-63, (Citation 48)
Adsorption properties and inhibition of mild steel corrosion in hydrochloric acid solution by ceftobiprole, AK Singh, MA Quraishi, Journal of Applied Electrochemistry 41 (1), 7-18, (Citation 48)
Quantum chemical investigations on quinoline derivatives as effective corrosion inhibitors for mild steel in acidic medium, Eno E Ebenso, Mwadham M Kabanda, Taner Arslan, Murat Saracoglu, Fatma Kandemirli, Lutendo C Murulana, Ashish K Singh, Sudhish K Shukla, B Hammouti, KF Khaled, MA Quraishi, IB Obot, NO Eddy, Int J Electrochem Sci 7, 5643-5676, (Citation 47)
Experimental and quantum chemical studies of some bis (trifluoromethyl-sulfonyl) imide imidazolium-based ionic liquids as corrosion inhibitors for mild steel in hydrochloric acid solution, LC Murulana, AK Singh, SK Shukla, MM Kabanda, EE Ebenso, Industrial & Engineering Chemistry Research 51 (40), 13282-13299, (Citation 44)
Study of some bidentate schiff bases of isatin as corrosion inhibitors for mild steel in hydrochloric acid solution, AK Singh, MA Quraishi, Int.J. Electrochem. Sci 7, 3222-3241, (Citation 31)
Piroxicam; A novel corrosion inhibitor for mild steel corrosion in HCl acid solution, AK Singh, MA Quraishi, J. Mater. Environ. Sci 1 (2), 101-110, (Citation 31)
Dapsone: a novel corrosion inhibitor for mild steel in acid media, A Singh, AK Singh, MA Quraishi, The Open Electrochemistry Journal 2 (1), 43-51, (Citation 25)
Adsorption behaviour of cefapirin on mild steel in hydrochloric acid solution, AK Singh, EE Ebenso, MA Quraishi, Int. J. Electrochem. Sci 7, 2320, (Citation 22)
Inhibitive effect of cefuroxime on the corrosion of mild steel in hydrochloric acid solution, AK Singh, MA Quraishi, EE Ebenso, Int. J. Electrochem. Sci 6, 5676-5688, (Citation 20)
Synthesis, structural and corrosion inhibition properties of some transition metal (II) complexes with o-hydroxyacetophenone-2-thiophenoyl hydrazine, P Singh, AK Singh, VP Singh, Polyhedron 65, 73-81, (Citation 18)
Triazines: Efficient corrosion inhibitors for mild steel in hydrochloric acid solution, SK Shukla, AK Singh, MA Quraishi, Int. J. Electrochem. Sci 7, 3371-3389, (Citation 17)
Electrochemical and quantum chemical studies on calmagite and fast sulphone black F dyes as corrosion inhibitors for mild steel in hydrochloric medium, MM Kabanda, SK Shukla, AK Singh, LC Murulana, EE Ebenso, Int. J. Electrochem. Sci 7, 8813-8831, (Citation 15)
Cefacetrile as corrosion inhibitor for mild steel in acidic media, AK Singh, SK Shukla, EE Ebenso, Int. J. Electrochem. Sci 6, 5689-5700, (Citation 15)
Synthesis, structural and corrosion inhibition studies on Mn(II), Cu(II) and Zn(II) complexes with a Schiff base derived from 2-hydroxypropiophenone, VPS Monika Mishra, Karishma Tiwari, Ashish Kumar Singh, Polyhedron 77, 57-65, (Citation 11)
Ultrasound mediated green synthesis of hexa-hydro triazines, AK Singh, SK Shukla, MA Quraishi, J Mater Environ Sci 2, 403-406, (Citation 11)
Inhibition effect of cefradine on corrosion of mild steel in HCl solution, AK Singh, A Singh, E Ebenso, Int. J. Electrochem. Sci 9, 352-364, (Citation 09)
Corrosion inhibition and adsorption properties of N-phenylhydrazine-1, 2-dicarbothioamide on mild steel in hydrochloric acid, SK Shukla, AK Singh, MA Quraishi, International Journal of Electrochemical Science 6, 5779-5791, (Citation 09)
Inhibitive effect of azorubine dye on the corrosion of mild steel in hydrochloric acid medium and synergistic iodide additive, SK Shukla, AK Singh, LC Murulana, MM Kabanda, EE Ebenso, International Journal of Electrochemical Science 7, 5057-5068, (Citation 08)
Effect of ceftezole on the corrosion of mild steel in HCl solution, AK Singh, EE Ebenso, Int. J. Electrochem. Sci 7, 2349, (Citation 07)
Adsorption behaviour of o-hydroxy acetophenone benzoyl hydrazone on mild steel/hydrochloric acid interface, AK Singh, Pooja Singh, Journal of Industrial and Engineering Chemistry 21 (01), 552-560, (Citation 06)
Inhibitive effect of chloroquine towards corrosion of mild steel in hydrochloric acid solution, AK Singh, S Khan, A Singh, SM Quraishi, MA Quraishi, EE Ebenso, Research on Chemical Intermediates 39 (3), 1191-1208, (Citation 06)
Corrosion behaviour of mild steel in sulphuric acid solution in presence of ceftazidime, AK Singh, SK Shukla, MA Quraishi, International Journal of Electrochemical Science 6 (11), 5802-55814, (Citation 05)
Cefotatan; a new corrosion inhibitor for corrosion of mild steel in hydrochloric acid solution, AK Singh, EE Ebenso, Int J Electrochem Sci 8, 10903-10909, (Citation 04)
Solvent?free microwave?assisted synthesis of 1H?indole?2, 3?dione derivatives, AK Singh, SK Shukla, I Ahamad, MA Quraishi, Journal of Heterocyclic Chemistry 46 (3), 571-574, (Citation 04)
Pharmaceutically active compound as corrosion inhibitor for mild steel in acidic medium, SK Shukla, AK Singh, EE Ebenso, Int. J. Electrochem. Sci 6, 4276-4285, (Citation 03)
Corrosion behavior of ceftibuten in hydrochloric acid solution, AK Singh, C Gupta, EE Ebenso, Int. J. Electrochem. Sci 7, 11617-11633, (Citation 02)
Corrosion inhibition effect of Aloe Vera gel: Gravimetric and electrochemical study, AK Singh, S Mohapatra, B Pani, Journal of Industrial and Engineering Chemistry 33, 288-297, (Citation 01)
Corrosion inhibition behavior of cefuzonam at mild steel/HCl acid interface, AK Singh, EE Ebenso, MA Quraishi, Research on Chemical Intermediates 39 (7), 3033-3042, (Citation 01)
Cephamycin; a novel corrosion inhibitor for mild steel corrosion in HCl acid solution, AK Singh, G Ji, R Prakash, EE Ebenso, AK Singh, International Journal of Electrochemical Science 8 (7), 9442-9448, (Citation 01)

Ceforanide: a new and efficient corrosion inhibitor for mild steel in HCl solution, AK Singh, EE Ebenso, Research on Chemical Intermediates 39 (4), 1823-1831