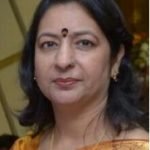 DR. VANDITA SHARMA
Assistant Professor (Communication Skills)
Email: vandita.sharma@bharatividyapeeth.edu  
---
Education
1. Ph.D. from Meerut University.
2. M.A. (English) from Meerut University.
3. M.A. (Economics) from Meerut University.
4. M.Ed. (Education) from Meerut University.
Work Experience: 11 years of Teaching experience in various organisations as Assistant Professor.
Book Publication
Book Published on "Teaching of Science".
Paper Publication
1. "Education For Values In School Curriculum- An Overall Perspective", Indian Journal Of Millennium Development Studies, Volume 6, January- December 2011; ISSN: 0973-3981
2. "A Study Of Relationship Between B. Ed. Entrance Examination And Teaching Effectiveness", International Journal Of Education And Research: New Frontiers In Education, Volume 44, No. 2, April-June-2011; ISSN: 0972-1231
3. "Internalising The Communication Skills Dimension In Technical Education", International Journal Of Business Management Economics And Information And Information Technology, Volume 3, Number 2, July-December 2011; ISSN: 0975-296X
4. "The Fairer Sex-Making It Stronger", Electronic International Interdisciplinary Research Journal, January-February 2012; ISSN: 2277-8721
5. "A Study Of Relationship Between B. Ed. Entrance Examination And Personality Of Teachers", AITEA International Journal Of Education And Humanities, Volume 2 (No. 4), September 2012; ISSN: 2231-380X
6. "QR Codes In Education- A Study Of Innovative Approach", International Organisation Of Scientific Research, ISSN (Online): 2250-3021, ISSN (Print): 2278-8719
7. "Embracing Green Engineering", Journal of Educational Chronicle, ISSN: 2229-6220, etc.
Professional Affiliations
1. Imparted training to various corporate houses in India. Training focussed on providing inputs in the area of written and oral communication, presentation skills, gender sensitivity and corporate communication conducted workshops in one or more of these areas.
2. Effective writing.
3. Corporate communication.
4. Communication in groups.
5. Art of asking questions.
6. Making effective presentations.
7. How to improve listening skills.
8. Personality devolopment.
9. Devolopment of conflicts resolution skills.
Area of Research/Academic Interest
1. Corporate communication
2. Development of strong voice skills and their use to maximise audience attention.
3. Impact of powerful visual aids.
4. Assessing and understanding the audience in order to capture their interest.
Articles Published in Newspaper
1. 'Sharpen your communication skills' in The Sunday Times, TOI Meerut.
2. 'Art of participating in Group discussion' in Indian Express, Meerut.
Short term courses/Workshops/FDP attended
1. Short Term Course on Soft Skill Devlopment: A Tool for Effective Teaching  in IIT Roorkee, from 25th to 29th June 2018.
2. Attended FDP on Stress of Life: Causes and Prevention, in Mt. Abu.
3. Attended one week faculty development programme on Human Values and Professional Ethics, organised by USIT at GGS Indraprastha University, Delhi.
4. Attended faculty development programme on 'Envisioning Entrepreneurship and Novel Research Methodology', held at BVCOE.
5. Attended faculty development programme 'SAMVAAD', at University School of Education, GGSIPU.
6. Attended workshop on T eaching ESP students, at The American Centre, Delhi.
Workshops Conducted
1. Business Communication Skills.
2. Inovation in new teaching technologies.
Memberships
1. Member of British Council, Delhi.
2. Member of Regional English Language Office, US Embassy, Delhi.
3. Member of All India Teacher Educators' Association (AITEA).
Other Achievements
1. Coordinator of Music and Dance Society, BVCOE.
2. Presented State in Badminton.
3. Did N.C.C. B certificate.
4. Did Prabhakar in Vocal Music from Allahabad Sangeet Samiti, Allahabad.
5. Did Prabhakar in Kathak dance from Allahabad Sangeet Samiti, Allahabad.