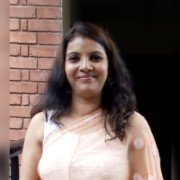 Ms. Shashi Gandhar
Assistant Professor  
Bharati Vidyapeeth's College of Engineering  
Educational Qualification:  Ph.D. (pursuing), M.E. ,B.TECH
Area of Specialization: POWER SYSTEM
Work Experience: 13 YEARS
Subject :       1. POWER SYSTEM
                       2. CIRCUIT AND SYSTEM
                       3. SOFT COMPUTING
                       4. FACTS
                       5. DIGITAL ELECTRONICS
                       6. ELECTRICAL TECHNOLOGY
                       7. ANALOG ELECTRONICS
Publications:
          International/National Conferences
Shashi Gandhar and Abhishek Gandhar , "FACTS in Isolated Hybrid Power system, National conference ESRD-2009 ,Gandhi gram rural university, 26 march 2009
Shashi Gandhar and Abhishek Gandhar, "Dynamic performances of power system with different SVCs, National conference on Power System and Energy Management ,IET Bhaddal, April 9-10, 2009
Shashi Gandhar, Abhishek Gandhar and M.S. Bhattacharya, "Comparative study of UPFC and TCSC based on CFCT, National conference on Advances in Efficient Utilization of Electrical Energy ,BVCOE, New Delhi, March  5-6, 2010.
Shashi Gandhar, Pratima Kapoor and Gaurav, "Video Surveillance search & relief operation Using Quadcopter" National conference on Recent advances in Power System, PEC university of Technology, Chandigarh.
Shashi Gandhar, Jyoti Ohri and Mukhtiar Singh, "Application of SSSC For Compensation Assessment of Interconnected Power System", 6th IEEE India International conference on Power Electronics (IICPE-2014), NIT Kurukshetra, 8-10 Dec., 2014.
Other Information
TIME TABLE-INCHARGE

ISO COORDINATOR

NIRF COORDINATOR

MEMBERSHIP OF PROFESSIONAL BODIES : Life Member of ISTE

MINI PROJECT COORDINATOR

CLASS ADVISOR-III YEAR EEE STUDENTS