Mrs. Yogita Arora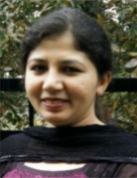 Associate Professor 
Bharati Vidyapeeth's College of Engineering  
E-MAIL ID:  yogita.arora@bharatividyapeeth.edu
Office Phone: (011) 25258637,25278443 Extn.:  244
Qualification: 
Area of Specialisation:
Work Experience: 
Subjects Taught:
Papers Published:
International Conference:
National Conference:
Seminar/Conference/FDP/Workshop Attended:
Attended summer Faculty Research Fellow Programme-2012 for 6 weeks under the guidance of Dr. Subrat Kar.

Workshop on Embedded system : Advances and Applications organized by FITT during 21-10-2005 to 23-10-2005 at IIT, Delhi.

National workshop on VLSI Education organized by JSS Academy of technical education, Noida from 23-07-2007 to 27-7-2007.
National summit on "Embedded system Design using Atmel 8-bit  and 32-bit MCU" by Atmel India University program at Indira Gandhi Institute of Technology, Delhi from 07-05-2012 to 08-05-2012.

Two Days FDP on "Envisioning Entrepreneurship and Novel Research Methodolgy" held on 20-09-2013 to 21-09-2013 at BVCOE, New Delhi.